Pre-Planning Options
Many people plan for life events such as weddings and vacations well in advance, but many people do not plan for something that is certain to happen, their funeral. While most people do not want to think about their own mortality, pre-planning a funeral service is a precious gift that you can provide to your family. The primary advantages of pre-arranging your funeral is to relieve the burden on your loved ones in an already emotional time and to ensure your funeral is carried out according to your wishes. Taking the time now to arrange your funeral is one less thing your loved ones will need to worry about once you've passed. Pre-planning and pre-paying your funeral is one of the most thoughtful gifts you can give to your family.

In terms of consumer protection, New York State has the toughest laws to safeguard money being held in trust through a pre-need agreement.
Revocable and Irrevocable Accounts
Pre-need funeral agreements are available in two forms, revocable and irrevocable accounts. Both are simple for a funeral director to set up, are F.D.I.C. insured and placed in an interest bearing account. With a revocable pre-need funeral agreement, money in the account is completely refundable and once the funeral has been paid, any money left over is transferred to the next of kin or to the estate of the beneficiary. With an irrevocable account, the funds are not refundable and once the funeral has been paid, any money left over is transferred to the county where the person resided. Irrevocable accounts are used to allow applicants or recipients of Medicaid or Social Security Income to set aside money for funeral expenses and the account is exempt from being counted as a part of their assets.Both types of accounts can be transferred to another funeral home at any time.
When setting up Irrevocable pre-need trust accounts, applicants or recipients of Medicaid can pre-pay for the funeral expenses of immediate family members as well, these are known as "family accounts". Immediate family members include the following: spouse, minor children, adult children, brothers, sisters, parents, adoptive parents and spouses of those listed individuals.


Guaranteed and Non-Guaranteed Pre-Need Agreements
Revocable and Irrevocable Pre-Need Accounts can be set up as either a Guaranteed Price Agreement or a Non-Guaranteed Price Agreement, this is determined by the funeral home. With a Guaranteed Price Agreement, the funeral home can choose to "freeze" either the funeral home charges only or both the funeral home charges and cash advance items. We believe that it is more of a benefit to families for us to offer Guaranteed Pre-Need Agreements. At the time of death of the beneficiary of the Guaranteed Pre-Need Account, the actual funeral home charges will be based on the current rates that are in effect. Brown Funeral Home guarantees not to charge any more for the funeral services and merchandise that are specified on a Pre-Need Statement than what is held in a fully funded trust account, including accrued interest. The accrued interest will be applied to compensate for inflationary cost increases. At the time of death, if the funds held in trust by the funeral home exceed the total price for such services and merchandise (actual cost of the funeral), the surplus will be applied to the cash advance items, any further surplus will then be refunded to the purchaser's next of kin or to their estate. We do not guarantee cash advance items because we have no control over their cost increases. Cash advance items include cemetery charges, crematorium fees, airlines, death certificates, minister/church fees and obituaries.

With a Non-Guaranteed Price Agreement, the funeral home will not guarantee today's price's for future needs, the account will still gain interest, but additional money may be due at the time of the at-need funeral arrangements.
The purchaser of a pre-need account can choose to change funeral homes at any time. The pre-need trust is owned by the purchaser of the account, not the funeral home.
Pre-Payment Options
Pre-paying your funeral reduces stress and financial burden on your loved ones after your passing. We can co-ordinate a payment plan that suits your needs and when fully pre-funded, we guarantee that the funeral home charges will not cost your family any more than what is in your account for the services and merchandise listed on the Pre-Need Statement. For more information on the services we offer, please feel free to contact us at 315-887-1248 to set up a free no obligation consultation. You are welcome to come to the funeral home, where we have an on-site selection room of caskets, cremation urns, burial vaults, monuments and memorial jewelry. If you prefer, we can come to your home to discuss the services available. Each year thousands of people decide to pre-plan and pre-pay their funeral, these plans are designed to be flexible and can accommodate the many changes that often occur in people's lives.

What you can do in advance…
Select a person (family member or close friend) to be in charge of your funeral arrangements and designate them as your "Agent"

Write down important information for the obituary

Select a photograph for the obituary

Set aside clothing and jewelry for the services

Designate a minister and a person to do the eulogy

Decide on Burial, Cremation or Anatomical Donation. Most people are not aware that they can have calling hours and services with the body present and cremation can take place following the services.

Select the type of service, will it include any of the following-religious service, military honors, fraternal services or non-traditional services. Will the services be public or private, or a mixture of both

Select a cemetery

Designate your pallbearers, pick any music or readings you want at your service

Select merchandise such as a casket, burial vault, urn, memorial jewelry and a monument. Many of these can be personalized to create a one of a kind item made especially for you.
Benefits of Pre-Planning
Between 75 and 100 decisions are made within the first 24-48 hours of death. It's difficult to think rationally while making so many decisions within days of losing someone, pre-planning provides you and your family with peace of mind. Pre-planning gives your loved ones direction of your wants and desires.




We encourage you to call us to discuss the advantages of pre-planning funeral services with our funeral home. We can meet at a time and place that is convenient for you and to go over the options available.
---
Make Arrangements Now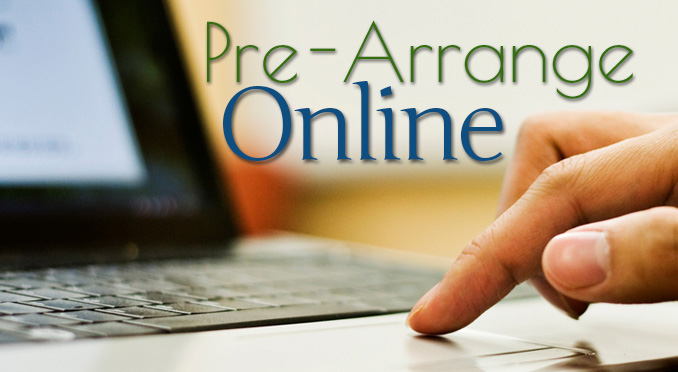 CLICK HERE to get started.