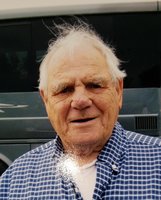 Wilford J. Deacons, Sr.
Wilford J. Deacons, Sr., 92, of Fulton, passed away Sunday, May 26, 2019 at home. He was born in Fulton to Frank and Blanche Deacons and was employed as a forklift operator with General Electric Company in Liverpool for 33 years until his retirement in 1986. He enjoyed listening to country music records on a daily basis and was always ready to head to the track when the local DIRT cars were racing. Wilford was a member of the Volney Senior Citizens.
He is survived by his son, Wilford, J. Deacons, Jr. and by several nieces and nephews, including his longtime caregiver, Linda Secor. In addition to his parents, Wilford was predeceased by his siblings Evelyn Secor, Louella Donaldson, Sophornia Shoults, Clarence Deacons, Sylvia Deacons and Frank Deacons, Jr.
A calling hour will be held from 1 to 2 p.m., Friday, May 31, 2019 with services to follow at Brown Funeral Home, 21 Flood Drive in Fulton. Burial will be in Mount Adnah Cemetery in Fulton.