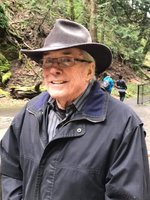 Robert "Bob" Griswold
Robert "Bob" Griswold, of Troutdale, Oregon, died February 26, 2019 at Adventist Medical Center in Portland, OR with his wife and family by his side. A native of Fulton, NY, he was the son of Charles and Vivian (Reidy) Griswold. Bob was a graduate of Fulton High School Class of 1958. He entered the United States Air Force and served 8 years active duty, he then served in the Air Force Reserves retiring as a Master Sergeant from Portland AFB in 2001. His working career was in sales, from Life Insurance to Real Estate. Bob loved hunting, going to the beach (Oregon Coast), the Columbia River Gorge, trips to Reno, and working in his yard. Bob especially loved spending time with his family and adored his grandchildren. He was always ready to tell a story or joke to make you laugh. He was very proud of his military career. Bob married the love of his life Lyn Smith in July 2000.
Bob is survived by wife Lyn, his children Gina (Tony) Profitt of Sandy, Oregon, Chelle (Jay) Oakley of West Lin, Oregon, Kyle (Christi) Smith of Jacksonville, FL, Ryan (Tiffany) Smith of Redmond, OR, Cassie (Ryan Samel) Smith of Troutdale, OR. His sisters, Louella LeClair of Fulton, NY, Darlene (Charles) Kerfien of Fulton, NY and Shirley (Len) Greco of Gainesville, GA. His brothers, Curtis (Sheree) Griswold of Fulton, NY and Jerry (Dianne) Hardy of Sebastian, FL and by his grandchildren Levi, Vera, Christi, Niki, Connor, Simon, Mallory, Allie, Austin, Jakob, and Zoey. He was predeceased by his parents and by a niece, Colleen LeClair Nickolas.
MSGT Griswold was interred at Willamette National Cemetery, Portland OR with full military honors on March 15, 2019, his 78th birthday. A family memorial service was held on March 17, 2019 at Fogarty Creek State Park (Pacific Ocean) his favorite place where he and his wife spent many happy days. To leave a message of sympathy for the Griswold family, please visit www.brownfuneralhomefulton.com