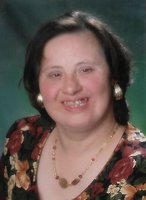 Mary Christine Smith
Mary Christine Smith, 57, who was a resident of the Ames Street Residential Home in Mexico, NY passed away peacefully Saturday morning. Mary was born in Auburn, NY to Charles J. and Margaret W. Smith. She graduated from Oswego County BOCES and worked for several years at Oswego County Opportunities in Fulton. Throughout her life, Mary enjoyed many activities which included: horseback riding, riding her bicycle, camping, dancing, bowling, listening to music, coloring and playing Bingo. She had a deep affection for animals, namely cats and dogs. Holidays and birthday celebrations were a special time for Mary along with gathering with her family and friends.
Mary is survived by her siblings, Michael (Sandy) Smith of Boulder, CO, Charles Smith of Fulton, William (Kathy) Smith of Fulton, Pat (Randy) Dempsey of Fulton and Sue (Phil) Gorea of Fulton; her sisters-in-law, Priscilla Kilpatrick of Phoenix and Debbie Smith of Fulton; her brother-in-law, Richard Kulibert of Fulton; several nieces, nephews and her friends and staff at O.C.O. In addition to her parents, Mary was predeceased by her siblings, Margaret LaFrate, Edward Smith, Paul Smith and Ellen Kulibert. She was also predeceased by her sister-in-law, Elaine Smith.
A funeral service will be held at 10:30 a.m. Wednesday, February 13, 2019 at Brown Funeral Home, 21 Flood Drive in Fulton. Contributions in memory of Mary may be made to Oswego County S.P.C.A. (OCAWL), P.O. Box 442, Fulton, NY 13069 or at oswegocountyspca.org. To leave a message of sympathy for the Smith family, please visit www.brownfuneralhomefulton.com