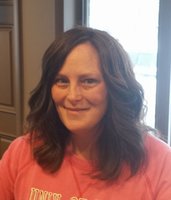 Sherrie Lynn Paddock
Sherrie Lynn Paddock, 42, of Syracuse, formerly of Fulton, was removed from life support on Monday, December 17, 2018 as the result of taking her own life. She was born in Oswego on November 20, 1976 to Walter W. and Susan D. Seeger Metcalf. Sherrie was a kind, outgoing person who always was willing to help others before she helped herself.
Sherrie is survived by her daughter, Victoria Van Slyke of Phoenix; her mother, Susan Metcalf of Fulton; her brother, Walter (Nicole) Metcalf of Fulton; her sister, Amanda (Cameron Mills) of Fulton; her boyfriend, Ted Hayden; her former husband, Ian Paddock and her five nieces and nephews, Olivia, Walter, Chaos, Callen and Vera. She was predeceased by her father, Walter W. Metcalf on October 3, 1987 and by her brother, Frank Metcalf on February 12, 2017.
Calling hours will be held from 3 to 5 p.m. on Friday, December 21, 2018 at Brown Funeral Home, 21 Flood Drive in Fulton. Graveside services will be held at a later date in Mount Adnah Cemetery in Fulton. Sherrie's last request was to help those that may be depressed or having suicidal thoughts and to have them call the National Suicide Prevention Lifeline at 1-800-273-(TALK) 8255. Contributions in Sherrie's memory may be made to the National Suicide Prevention Lifeline at www.suicidepreventionlifeline.org/donate To leave a message of sympathy for Sherrie's family, please visit www.brownfuneralhomefulton.com