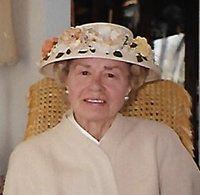 Lucy A. Frank
Lucy A. Frank, 92, of Phoenix, passed away Wednesday afternoon at Seneca Hill Manor. She was born in Hannibal, the youngest of five children to the late, John and Mary Garbus. Lucy grew up on the family's dairy farm and graduated from Hannibal High School. She retired from General Electric where she had worked as a secretary for many years.
Lucy was a long time member of All Saints Episcopal Church in Fulton. Lucy valued the friendships she made at Fulton Y.M.C.A. through swimming. Her interests included hiking with her dogs, cross country skiing, completing word search puzzles, reading, cooking homemade soups and having an abundance of fresh flowers in her home. She had a special bond with her dogs, Star and Biscuit. Lucy was noted for her sharp wit and her unique sense of humor.
Lucy is survived by several nieces and nephews. In addition to her parents, Lucy was predeceased by her husband, Harry; her siblings: John Garbus, Olga Colson, Fred Garbus and Nellie Matthews.
A memorial service will be held at 7 p.m., Monday, June 25, 2018 at All Saints Episcopal Church in Fulton. Contributions in memory of Mrs. Frank may be made to All Saints Episcopal Church 153 South First St. Fulton, NY 13069; The Oswego County Humane Society, 29 West Seneca St., Oswego, NY 13126; or to the C.N.Y. S.P.C.A. 5878 East Molloy Rd., Syracuse, NY 13211.