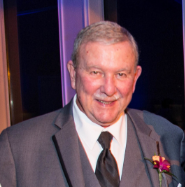 James "Robby" Robinson
James R. "Robby" Robinson, 74, of Longs, South Carolina, formerly of Fulton, died Monday, April 23, 2018 at McLeod Regional Medical Center in Florence, South Carolina.
James was the son of the late, Robert J. Robinson and Anna Zanewych Robinson and resided in Fulton until moving to Longs, South Carolina in 2013. He was a graduate of Fulton High School, SUNY Oswego and also served in the U.S. Marine Corps. He retired as a Police Officer with the Fulton Police Department in 1987 and continued working for a number of years for the NYS Park Police and at Battle Island Golf Course.
He was a member of the Fulton Lodge B.P.O.E. #830, the Polish Home and the American Legion.
James had a passion for golf and a love of sports which included coaching Little League baseball and women's softball. He was an avid New York Yankee, New York Giants and Syracuse University fan.
James is survived by his wife, Cindy Perry Robinson; two sons, David James Robinson and Michael Garrett (Dana) Robinson; two-step children, Chase (Megan) Perry and Nicole (Greg) Perry Sherrell and by two grandchildren, Kian and Brynn Perry. In addition to his parents, he was predeceased by a sister, Roberta Robinson Baker.
At his request there are no services. Contributions in Mr. Robinson's memory may be made to the Fulton Police Benevolent Association, 141 South First St., Fulton, NY 13069.