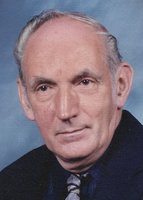 Chester "Chet" MacEwen
Chester Leon "Chet" MacEwen, 82, of Fulton, passed away in his sleep Monday evening at Seneca Hill Nursing Home after a short illness. Chet was employed by the Container Corporation of America in Fulton for over 47 years. He enjoyed spending time with his family, NASCAR, hunting and riding his four wheeler.
Chet is survived by his wife of 62 years, Barbara (Burnett) MacEwen of Fulton; his sons, Steven of Fulton, Bruce and daughter-in-law, Renuka of Fort Lauderdale, FL; his daughter, Marie Peebles of Fulton; two brothers, Leonard MacEwen of Fulton and Loren MacEwen of Oswego; six grandchildren; three great grandchildren as well as several nieces and nephews. Chet was predeceased by twin infant daughters; his parents, Harold and Anna Lanning MacEwen; a sister, Jean Stacey; brothers, Melvin and George MacEwen.
A celebration to honor Chet's life will be held at 4 p.m. Saturday, March 24, 2018 at Brown Funeral Home, 21 Flood Drive, Fulton. Calling hours will be held from 2 to 4 p.m. Saturday at the funeral home prior to the service. Burial will be at a later date at Mount Pleasant Cemetery in Volney. Contributions in memory of Mr. MacEwen may be made to the Fulton Alliance Church, 1044 State Route 48, Fulton, NY 13069.