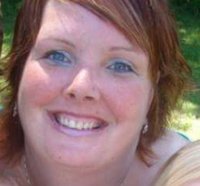 Colleen LeClair Nickolas
Colleen LeClair Nickolas "Duke", 49, was taken home to her Lord and Savior Wednesday, February 21, 2018 after battling multiple sclerosis for more than eight years.
She was born in Oswego to John and Louella LeClair. Colleen graduated from G. Ray Bodley High School in 1986 and was a lifetime resident of Fulton and had been employed by Huhtamaki in the shipping department for five years. Colleen was a communicant of Holy Trinity Church and a former firefighter with the Pennellville Fire Department. Colleen always had a smile on her face, enjoyed Bingo and spending time with family and friends. She was a loving mother, grandmother, daughter and friend with a personality and sense of humor that was loved by all.
Colleen was the mother of Brendan, Lauren and Michael-Ann Woolworth (fiancée, Rod Macomber), all of Fulton; she is also survived by her grandchildren, Ella Woolworth and Roderick Macomber, Jr.; her mother, Louella Griswold LeClair of Fulton; her father, John (Shelly) LeClair of Fulton; her brother, John (Penny) LeClair, Jr. of Ogden, UT; her sister, Desiree (Michael) Caza of Fulton; her husband, William Nickolas; her nieces, Melinda Sue (James) Mathis, Kelsey and Dilyn Caza as well as several great nieces and nephews.
She was predeceased by her grandparents, Charles and Vivian Griswold and Leona and Charles LeClair.
Graveside services will be held at 1 p.m., Friday, August 31, 2018 in St. Mary's Cemetery, South Seventh Street in Fulton. A Mass of Christian Burial was celebrated Thursday, March 1, 2018 in Holy Trinity Church, 309 Buffalo St., Fulton. Calling hours were held from 4 to 7 p.m., Wednesday, February 28, 2018 at Brown Funeral Home, 21 Flood Dr., Fulton. . Contributions may be made to Paws Across Oswego County, 2035 County Route 1, Oswego, NY 13126 or to Friends of Fulton Parks, P.O. Box 572, Fulton, NY 13069 for a park bench placed in Colleen's memory.