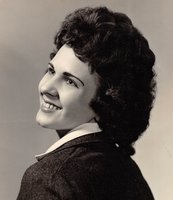 Patricia A. Deyo
Patricia A. Deyo, 74, of Fulton, formerly of Midwest City, Oklahoma passed away peacefully in her sleep on Wednesday, December 20, 2017. She was born in Volney to the late Daniel and Eva Smith and was a homemaker who enjoyed sewing.
She is survived by her husband of 54 years, Gerald A. Deyo of Fulton; three sons, Richard of Oklahoma, Dennis (Nichole) of Fulton and Eric of Oklahoma; three brothers, Grant "Butch" (Jill) Smith of Volney, Pete (Ruby) Smith of Volney and Richard "Dickie" (Michelle) Smith of Central Square; several grandchildren, great grandchildren, nieces and nephews. In addition to her parents, Patricia was preceded in death by her sister, Roxanne Davies and by a brother, Charles Smith.
All are welcome to join the Deyo family for a celebration of Patricia's life on Tuesday, December 26, 2017 beginning at 4 p.m. at the Fulton Elks Lodge B.P.O.E. #830, 57 Pierce Drive, Fulton.