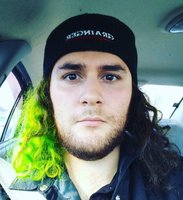 Alexander Lee Reynnells
Alexander Lee Reynnells, 24, of Oswego, formerly of Fulton and Kalamazoo, Michigan died August 5, 2017. He was born in Jacksonville, Florida and grew up in Lawrence, Michigan, where he graduated from Lawrence High School in 2011 and was a member of their football team. Alex was employed as a clerk with Grainger at Novelis in Oswego. He enjoyed playing his guitar and traveling to music festivals. Alex had an appreciation for nature and all wildlife.
Alex is survived by his parents, Charles and Karen Reynnells; his sister, Coral Reynnells; two brothers, Leighton and Kaden Reynnells; maternal grandparents, Norman and Phyllis Lagowski all of Fulton; his companion, Kaitlan Barker of Oswego; paternal grandparents, Thomas and Linda Reynnells; great grandfather, Richard Reynnells; great grandmother, Vera Skinner all of Lawrence, MI as well as several aunts, uncles, cousins and friends.
A Memorial Mass will be celebrated at 9:30 a.m. Friday, August 18, 2017 at Holy Trinity Catholic Church, 309 Buffalo St., Fulton. Calling hours are 4 to 7 p.m. Thursday, August 17 at the Fulton Alliance Church, 1044 State Route 48, Fulton. Contributions in memory of Alexander may be made to the Oswego County Humane Society, 29 West Seneca St., Oswego, NY 13126.